Seafood Seven Ways
I grew up on Vietnamese food and ever since I moved away from my family home for college, I often find myself longing for something my mom or grandmother would make at home. When deciding what I wanted to present for the ICSA Seafood Challenge, all my favorite Vietnamese seafood dishes came to mind. The memory of all those wonderful flavors combined with the thought of my impending graduation and a move across country that would place me thousands of miles from the makers of my favorite food compelled me to make sure I would still be able to taste those same flavors without a visit to grandma's kitchen. I present to you
Do bien bay mon
: Seafood seven ways.
Starters: Grilled shrimp rice paper rolls, asparagus and crabmeat soup, and cabbage and shrimp salad.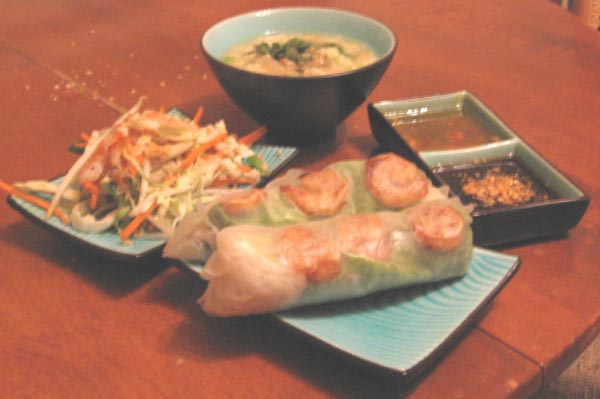 Main Course: Sour fish head soup, clams in black bean sauce, and salt-fried crab, squid, and shrimp.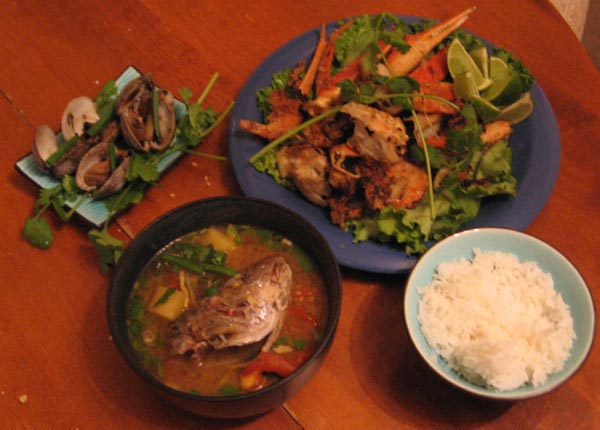 And then one surprise you'll find out about at the end..
I will type out typical ingredient measurements for each dish when I would make them separately, but the pictures will show you how I have scaled them down to make fairly small portions so that I would have room to comfortably enjoy each one. I also show how I made each dish separately so that it will be easier for you to follow along, though the actual process was much more hectic.
First, get the rice ready in my rice cooker, measuring out enough for each serving. I put in enough water so that its level above the rice comes up to the first knuckle on my index finger. 15 minutes before finishing up the main dishes, push the button to start the cooking process so that rice will be ready with the rest of the meal.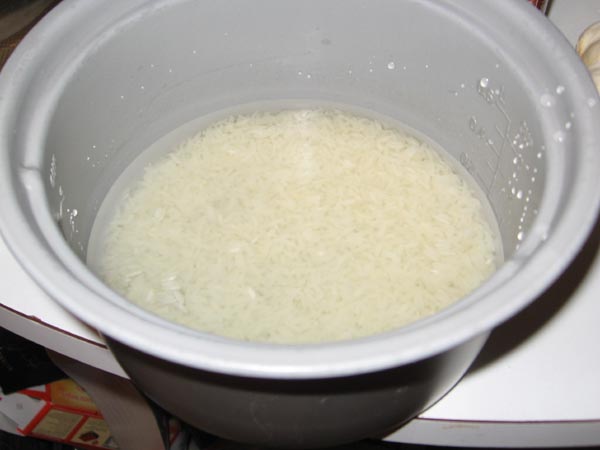 A number of the ingredients will be used in more than one dish, so these I prepped first. From the top row left to right, then the bottom row, left to right I have: chopped shallots, minced ginger, green onions cut into 1-inch lengths, roughly chopped cilantro, minced garlic, and thinly sliced green onions.
Nuoc mam cham: Dipping fish sauce
. This sauce is used in a wide variety of Vietnamese dishes. It balances the pungent, salty concentrated fish sauce with sour, sweet, and spicy. The levels of each taste parameter can be altered to an individual's preference or to better suit the particular item it is served with.
Ingredients: 1 Tb fish sauce, 1 Tb lime juice, 1 Tb sugar, 1 Tb sambal chili sauce, 1 garlic clove minced, 7-9 Tb water (not shown).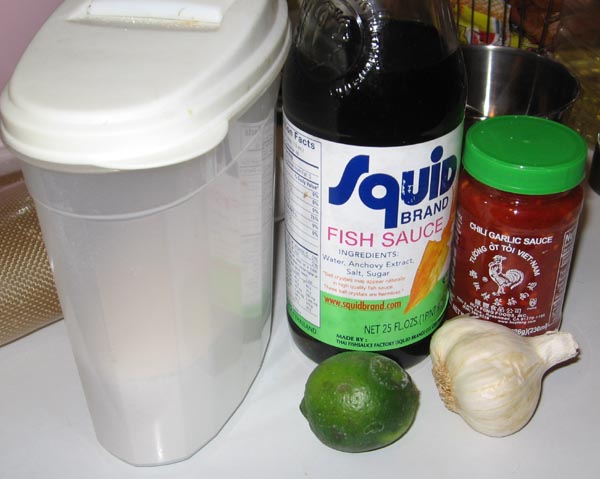 Whisk all ingredients together until the sugar has dissolved. If making the sauce in large batches, heat everything in a saucepan to facilitate complete dissolving of the sugar. Taste and adjust any of the particular ingredients to your preference. I tend to use a little more lime juice.
Nuoc leo: Peanut dipping sauce
. This sauce is based on a sweet and salty bean paste and often called peanut sauce because it uses peanut butter and is garnished with ground peanuts. However, the distinct taste derives from the hoisin sauce, so if you are allergic to peanuts, you can easily substitute applesauce for peanut butter and omit the ground peanuts. I was making these sauces in the midst of watching over three other dishes on the stove and in the oven and forgot to take pictures of the ingredients and process, but it is fairly simple.
Ingredients: 1 Tb hoisin sauce, 1 Tb peanut butter, 2 tsp sugar, 3 Tb water, 1 tsp cornstarch dissolved in 1 Tb water, 1 tsp ground peanuts.
Whisk the hoisin sauce, peanut butter, sugar, and water in a saucepan on medium heat. Bring to a boil and then stir in the cornstarch slurry until the sauce thickens. Serve topped with ground peanuts. Top with a dab of sriracha if you like it spicy. Here's an additional secret from my family: mix some apple sauce into the dip for a bit of fruity sweetness.
Tom nuong cuon: "Grilled" shrimp rice paper rolls
. This classic Vietnamese appetizer combines soft rice noodles and crunchy bean sprouts and cucumber. These rolls feature shrimp broiled in a lemongrass sauce. Normally they would be grilled but I was making so few, it was more efficient to pop the shrimp into the oven. And you know how us Asians love efficiency. :keke: Shrimp rolls are typically served with a hoisin-based sauce, though I personally prefer a dip that is based on fish sauce, so I served these with both.
Ingredients:
Lemongrass sauce (scale appropriately to your amount of shrimp): 2 Tb oyster sauce, 1 Tb fish sauce, 2 Tb minced lemongrass, 1 Tb scallion oil (chop up the green part of some scallions, cover with vegetable oil, then heat on the stove or microwave until hot), 1 Tb sugar, 1 tsp sambal chili paste (optional/adjustable to your preferences for spicy).
The rolls:
U.S. farm-raised shrimp
(1.5-2 shrimp per roll), rice paper, vermicelli rice noodles (pictured already cooked), lettuce, bean sprouts, cucumber, cilantro, Vietnamese/Thai basil (regular basil also works but is a little more sweet, Vietnamese basil has a subtle licorice/anise flavor to it).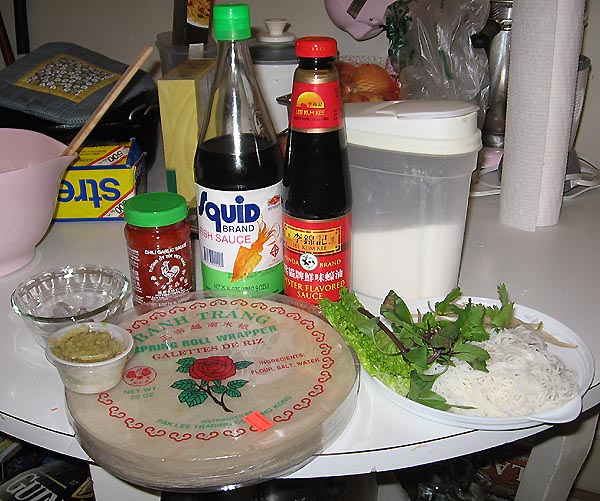 Mix together the lemongrass sauce ingredients: oyster sauce, fish sauce, lemongrass, scallion oil, sugar, chili paste.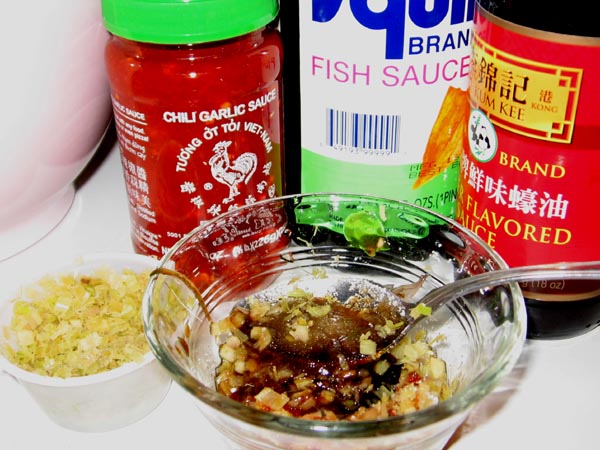 Peel and devein the shrimp and place it in the sauce to marinate for up to an hour. Cook the rice noodles by bringing water to a boil and adding the dry rice noodles. These noodles cook very quickly, so you only want the noodles submerged for a few minutes before draining. Let the noodles dry while the shrimp marinates. Wash the lettuce, bean sprouts, cilantro, and basil, and slice thin strips of cucumber. When you're almost ready to roll, grill or broil (on low) the shrimp for about 6 minutes, flipping them once.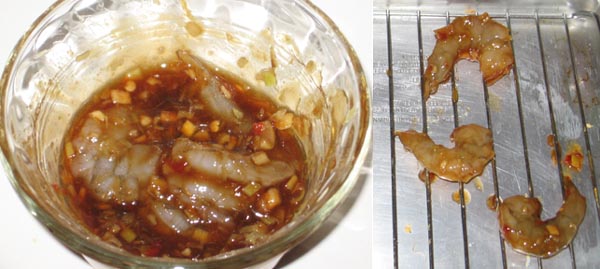 Unfortunately, there are no pictures of the pretty grilled shrimp because my lighting and photography skills are sorely lacking. Cooking while stopping every few minutes to take pictures is harder than I thought. From here on, I apologize for steps that are not as well documented with pictures as many did not turn out. But assuming your shrimp are nice and pretty, slice each one in half down the rostral-caudal axis.
For each roll, take a rice paper and run it under water and lay it on a flat surface. If you're making a lot of rolls, I suggest you fill a pie plate with some water and dip the rice papers as you go. Layer the fillings on the rice paper, along the center: shrimp, lettuce, basil, cilantro, noodles, bean sprouts, cucumber. The rice paper should have softened by the time you have assembled the ingredients. You can now start rolling like a burrito from the bottom until about halfway, fold in the side flaps, and then finish rolling all the way up. Make sure the rolls are as tightly rolled as possible so that the entire roll remains a coherent mass when being eaten.

Serve the rolls with the two dipping sauces.
Sup mang cua: Asparagus and crabmeat soup
. This soup has a delicate sweetness lent by the crabmeat and white asparagus. Beaten egg is swirled into the broth much like an egg drop sort of soup.
Ingredients: 1 Tb vegetable oil, 6 shallots chopped, 2 garlic cloves minced, 8 oz. fresh or canned lump crabmeat (sorry
blue crab ):
), 4 cups chicken stock, 1 Tb fish sauce, 1 tsp sugar, 2 Tb cornstarch mixed in 2 Tb cold water, 1 egg beaten, 15 oz. can of white asparagus cut into 1-inch lengths with the canning liquid reserved, 1/4 cup of cilantro roughly chopped, 1 scallion thinly sliced, freshly ground black pepper.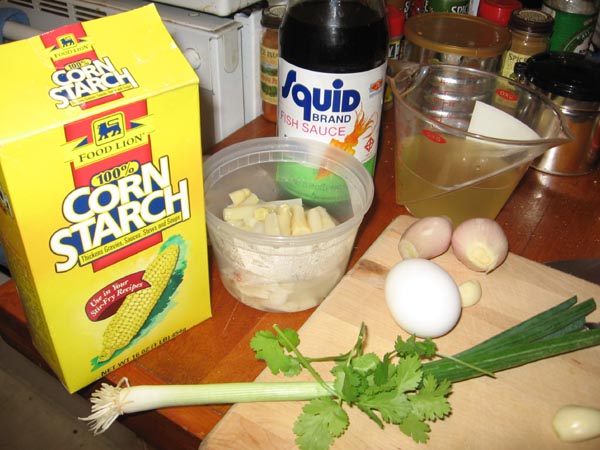 Heat oil in a saucepan on medium high. When hot add the chopped shallots and minced garlic and stir until aromatic. Add in the crabmeat and stir for a minute.
Add the chicken broth, fish sauce, and sugar. Adjust the seasonings as needed. If using homemade chicken stock add a little bit more salt, if using canned chicken broth you might not need all of the fish sauce. Bring everything to a boil and then add the cornstarch slurry. Stir until the soup has slightly thickened and beat the egg. Drizzle the egg into the hot soup while stirring gently (in only one direction) to create fine egg drop ribbons. If you have a helper, it is easier to create the nice ribbons if you have someone else gently stir the soup while you drizzle the egg through the tines of a fork. Stir in the asparagus and canning liquid and heat through.
When you're ready to eat, ladle out the soup and top it with the chopped cilantro, sliced scallions, and black pepper.
Goi tom: Cabbage and shrimp salad
. This Vietnamese salad is refreshing and light. It is a nice cooling dish before delving into the hot items of the main courses.
Ingredients: 8 oz. - 16 oz. shrimp (use more shrimp if you want to use this dish as a main course), 2 cups cabbage thinly sliced, 1/2 cup carrots julienned (I used more carrots), 1 cup bean sprouts, 1/2 cup cucumbers julienned, 1/2 cup Vietnamese basil chopped (or if you can find it, rau ram, Vietnamese coriander), ground peanuts, fish sauce dipping sauce (not pictured, made above).
While you can just boil the shrimp, I prefer to brine mine for about an hour and then broil it. Leave the shell on for now, it lends more flavor to the shrimp. I mixed just a few tablespoons of salt and sugar into a 1/2 cup of water. Let the shrimp brine in the refrigerator. I have a few extra shrimp in this batch that I will use later in another dish.

Cut up all of the salad ingredients. I already had some cabbage and carrots on hand, so only had to slice up the cucumber and basil.
Toss everything together except for the shrimp, peanuts, and fish sauce. Now for a very crunchy salad, you can leave out the dressing and drizzle it atop right before you serve. If you want the flavors to infuse a little more, then go ahead and toss the salad with the fish dipping sauce and let it sit before serving. I partciuarly like to add extra lime juice to the fish sauce for this salad.
When the shrimp is ready for cooking, rinse them under cold water and pat dry with a paper towel. Put them under the broiler for about 6 minutes, turning once. When they're done, peel the shrimp and then slice in half. Toss these into the salad, setting aside a few to garnish on top.
Before you serve, toss in the fish sauce if you have not yet. Garnish with a few shrimp on top of the salad, and sprinkle with ground peanuts.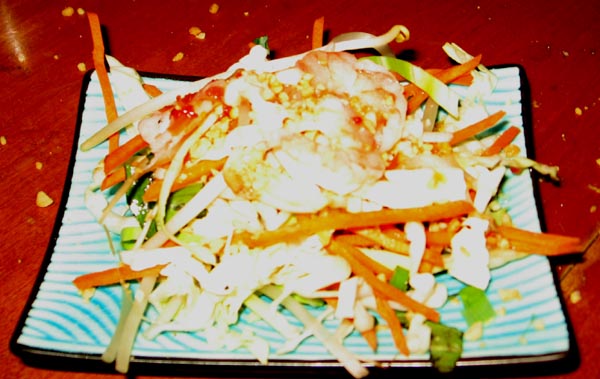 Canh chua dau ca: Sour fish head soup
. It may seem strange to include another soup in this meal, but Vietnamese cuisine treats its variety of soups very differently. There are the non-noodle soups like the asparagus and crabmeat soup, big noodle soups served as a meal, and then the clear-broth soups eaten with rice like this sour fish head soup. Like so many Vietnamese dishes, it combines salty, sour, sweet, and spicy, this dish with an emphasis on the sweet from pineapple and the sour from tomatoes and rice paddy herb. I didn't have access to this herb so added a squeeze of lime juice to perk up the tartness.
Ingredients: 3/4 - 1 lb. whole fish or combination of fillets and carcass, 5 cups of water (I give a boost to the flavor by using half chicken stock), 2 cloves minced garlic, 6 Tb tamarind pulp or 2 Tb tamarind soup base, 2 Tb fish sauce, 3 Tb sugar (if using fresh pineapple), salt to taste, 2 tomatoes, green onions, 1/2 a medium onion, 1 cup okra (alas, it is not in season here so this was omitted though I forgot I could have checked the frozen section), 2 cups pineapple chunks (if using canned, also add the canning liquid), 2 cups bean sprouts, cilantro, rice paddy herb (or lime juice). There's also one other vegetable that I couldn't find, taro stem, which is similar to celery but wider. I think it's called "roc mung" in Vietnamese. About a cup of this vegetable, chopped into 1-inch slices would ideally go into the soup.
Trim up the fish, cutting off the head and fins. Place these into the pot and cut up the rest of the fish into smaller portions. I used a croaker which was pretty small and fairly bony so I didn't fillet the fish. Otherwise I would throw the entire carcass into the pot. Cover the fish head with the water and stock if using. I also added the shrimp shells from the other dishes. Turn the heat on medium high, bring everything to a boil and then lower the heat to a steady simmer.

Let the fish head simmer for about a half hour. In the meantime, slice the tomatoes and onions into wedges, the green onions into 1-inch lengths if using, the okra in half, and roughly chop the cilantro. I just needed to do my tomatoes and onions here since I had the rest already prepped.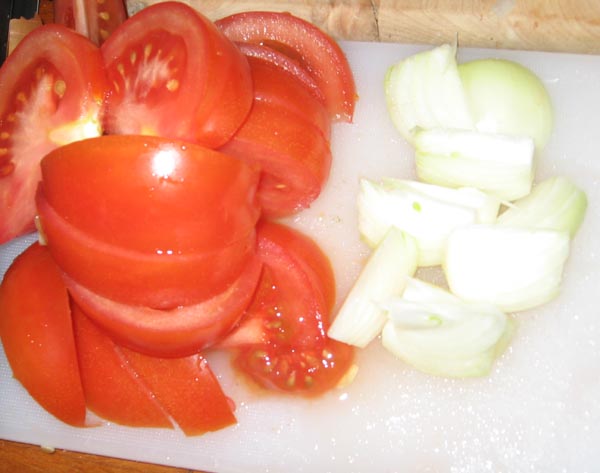 When the fish stock is done, strain out the small bits and set aside the fish head. Add the oil to the pot, let it get hot on medium high and then add the minced garlic. Once it starts getting fragrant, add the stock back in, the tamarind, the fish sauce, the sugar if using fresh pineapple, and salt to taste. Place the rest of the fish into the pot, and bring to a boil. Once boiling, lower the heat and let the fish simmer for a few minutes before adding most of the rest of the ingredients: tomatoes, the white part of the green onions, the onion, okra, taro stem, pineapples and pineapple juice.
After a total simmer time from the addition of the fish of about 20 minutes, the soup is nearly done. Stir in the bean sprouts, the rest of the green onions, the cilantro, and the rice paddy herb if you have it or lime juice. Give everything a stir, add the fish head back in to heat up, and leave the heat on for a few more minutes.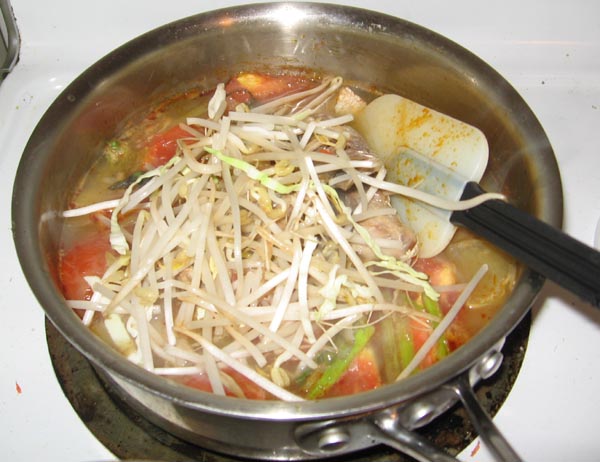 Ladle the soup into the serving bowl and spoon over steamed rice. Fight your dinner mates over who gets to eat the delicious meat from the cheek of the fish. Wish you had a Thai bird chile to immerse in your bowl to bring out some spiciness. The flavor of the croaker suited well enough for this soup, which is best with more mild sweet meated fishes.
Alaskan wild salmon
was my first choice of fish but the store did not have any heads and this was much better for my budget anyway!
Trai dau den: Clams with black bean sauce
. A dish of Chinese origin, the clams are steamed in a sauce flavored by pungent black beans and ginger. This recipe is actually quite versatile and wonderful with mussels, green beans, and ground pork.
Ingredients: 2 Tb vegetable oil, 1/4 inch of ginger root, 2 scallions, 1 garlic cloves, 2 tablespoons fermented black beans, 1 tsp of dry sherry or other wine (I have a merlot here), 1 TB dark soy sauce, 1 tsp sugar, 1 lb. U.S. farmed clams (I originally planned to make
U.S. farmed mussels
, but they were being sold in bags too big for me, but I think clams are similarly ocean friendly)., 1 tsp cornstarch mixed in 1 Tb water.
Mince the garlic and the ginger root, and cut the scallions into 1-inch lengths, which I have already done. Put a pot on medium-high heat and add the oil, letting it get hot. Once hot add the ginger, white parts of the scallions, garlic, and black beans, stirring until the garlic is lightly golden.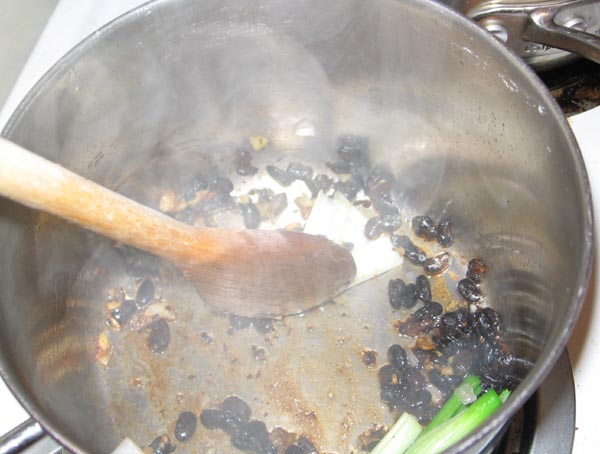 Add the wine, soy sauce, sugar, and a 1/3 cup of water (again, or stock for added flavor). Stir until the sugar is dissolved.
Once the liquid comes to a boil, lower the heat to a simmer and add the clams. Cover the pot with a lid and let the clams steam just until they open.
Once they are ready, remove the clams from the pot to the serving vessel. Add the cornstarch slurry to the sauce and stir until it has thickened. Stir in the green parts of the green onions, pour the sauce over the clams, and serve with steamed rice.
Cua, muc, tom rang muoi: Salt-fried crab, squid, and shrimp
. I always looked forward to the couple times a year my dad brings home a big bag full of live crabs. We steam them and spread newspapers all over the table to dig in and dip the crab into a simple dip of lemon juice, salt, and pepper. Just as much as I looked forward to that day, I looked forward to the day after when mom takes the leftover crabs and fries them up in the most simple but addictive batter. I combined the crab with squid and shrimp for a delicious trio that isn't quite as breaking out the newspaper hard work (or expensive!) that a meal of all crab takes.
Ingredients: 2 Tb salt, 1 Tb pepper, 1/2 cup cornstarch, 1 lb. worth of seafood:
Argentine squid
, U.S. farm-raised shrimp, pre-cooked
King crab
, 4-6 Tb oil, 1 clove garlic, limes.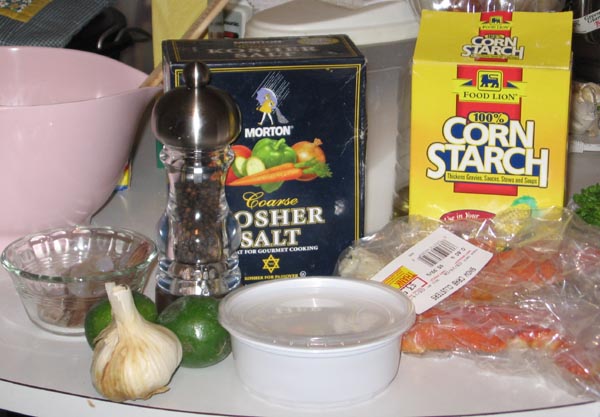 Cut the squid into rings, devein but do not peel the shrimp, and cut up the crab into more managable pieces. If desired, brine the shrimp as I did for the cabbage and shrimp salad. When ready to cook, combine the salt, pepper, and cornstarch and dredge the seafood in the mixture, coating liberally. I show the squid and shrimp here.
In a wok or frying pan with the heat turned up to maximum, pour in the oil and let it get hot. Mince the garlic and add to the pan. I had some shallots and green onions left over and added them too. It won't take long for things to start to brown.
Toss in the seafood and keep stirring as much as possible. A very light coating will begin to take form.
It won't take too long for the shrimp and squid to cook through. Once done, serve with steamed rice and lime wedges.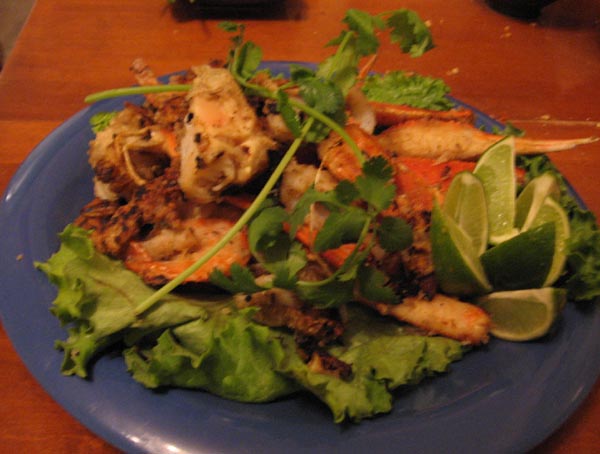 Now you may be wondering.. what's that pink bowl I can catch a glimpse of in the background of some of these pictures. That brings us to..
Banh tac chao tom: Shrimp mousse egg tart
. Again drawing from the Chinese tradition, I top an egg tart with a soft paste of shrimp. The sweetness of this preparation of shrimp is often paired with sugar cane and served wrapped in rice papers. Combining it with an egg custard instead is convincing enough as a dessert though not quite as masterful a balance of flavors as is typical of Vietnamese food. (:
Ingredients: 6 tablespoons shortening, 1/4 teaspoon salt, 12 oz. flour sifted, 3 or more oz. water, 3 eggs, 8 oz. milk, 11 oz. sugar, 10 oz. shrimp, 1 1/2 tsp sugar.
Preheat the oven to 350 degrees F. Add the shortening, salt, and flour into a bowl.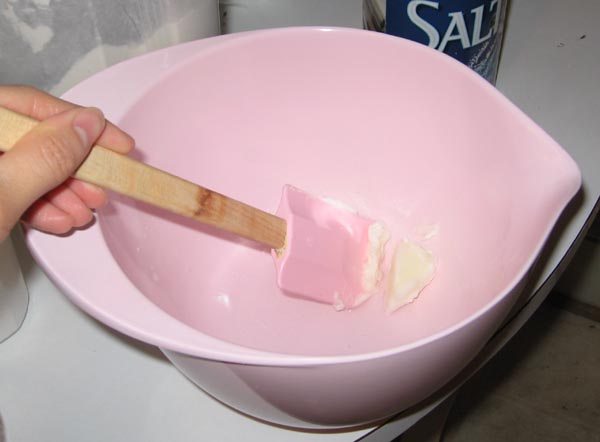 Start drizzling in water and mixing. The dough will form into little crumbs. Add water until the dough is wet enough to start holding together. Set it aside for 30 minutes.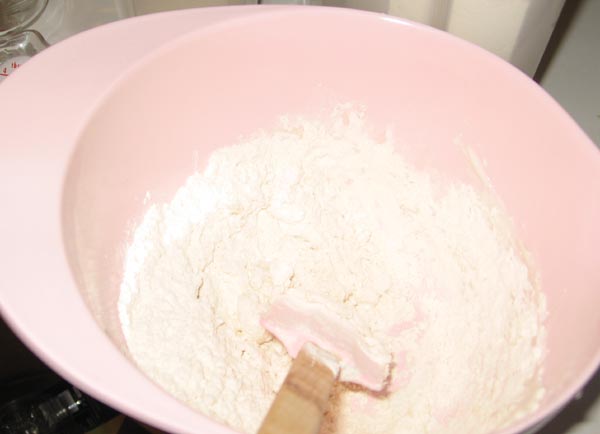 Beat the eggs, then add the milk and sugar gradually. Keep beating until the eggs lighten in color. They should thicken a little.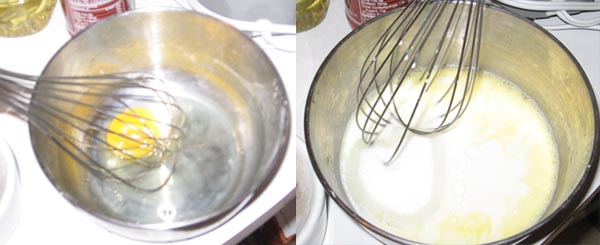 Back to the dough: separate it into 12 balls and roll each one into a circle of about 2 1/2 inches. Since I was making just a few, I just rolled one big circle and cut it into the number of pieces I needed.
Line small tart or pie pans with the dough. I didn't have any so used some ramekins. Pour the egg mixture into the crusts and put the pans in the oven.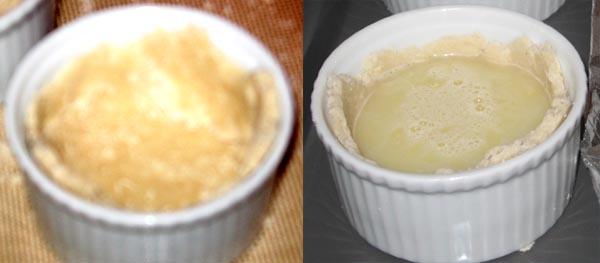 While the tarts start cooking, pound the shrimp using a mortar and pestle or food processor. Grind in the sugar.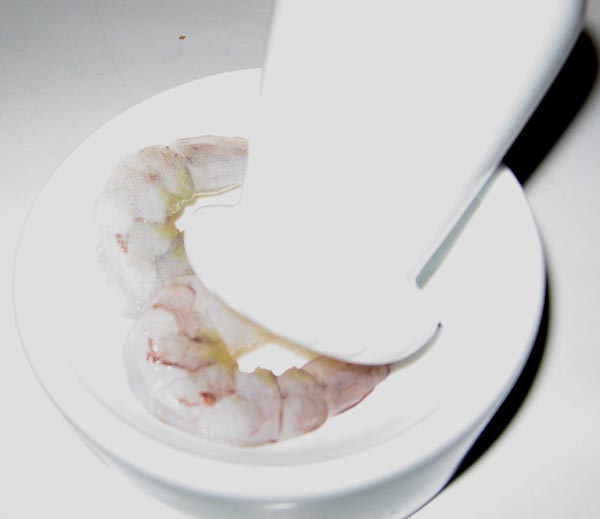 Form the shrimp into little balls. If you are using a shallow tart pan, they will take about 20 minutes to set, which is about the same amount of time the shrimp should cook so go ahead and place the shrimp in the oven on a sheet pan. Since I used the ramekins which are a little taller, the tarts will take longer, about 40 minutes, so I waited 20 minutes before putting the shrimp in the oven.
Once the custard begins to set, top the egg tart with the shrimp.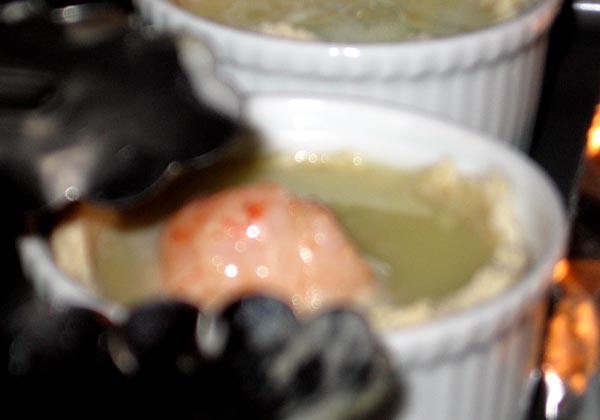 When the tart sets fully, take it out of the oven. Serve warm or chilled.
My meal was everything I wanted, bringing together all of my favorite Vietnamese flavors. A noodle soup was really the only thing missing..
I made enough to feed two people and surprisingly spent under $25, not including the cost of the staples I already have at home. It took me about three hours but I could pare it down to two or a little less without the need to keep trying to take pictures that weren't too washed out or too dim. Thanks for sticking with me the whole way! I hope you're convinced like I am that Vietnamese food is among the best food in the world. (: